Overview
A heel spur is a calcium deposit on the underside of the heel bone, often caused by strain on foot muscles and ligaments. Heel spurs are common among athletes but also tend to develop as we age, as flexibility decreases. Heel spurs can be painful when associated with plantar fasciitis, an inflammation of the connective tissue that runs along the bottom of the foot and connects the heel bone to the ball of the foot.
If left untreated, the mild aches associated with this condition can evolve into chronic pain. And as you try to compensate for the pain, your gait may change, which could impact your knee, hip and back.
Causes
A bone spur forms as the body tries to repair itself by building extra bone. It generally forms in response to pressure, rubbing, or stress that continues over a long period of time. Some bone spurs form as part of the aging process. As we age, the slippery tissue called cartilage that covers the ends of the bones within joints breaks down and eventually wears away (osteoarthritis). Bone spurs due to aging are especially common in the joints of the spine and feet.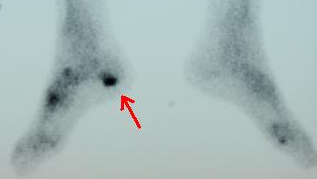 Symptoms
The Heel Spur itself is not thought to be painful. Patients who experience pain with Plantar Fasciitis are suffering from inflammation and irritation of the plantar fascia. This the primary cause of pain and not the Heel Spur. Heel Spurs form in some patients who have plantar fasciitis, and tend to occur in patients who have had the problem for a prolonged period of time. While about 70 % of patients with plantar fasciitis have a heel spur, X-rays also show about 50 % of patients with no symptoms of plantar fasciitis also have a heel spur.
Diagnosis
Diagnosis is made using a few different technologies. X-rays are often used first to ensure there is no fracture or tumor in the region. Then ultrasound is used to check the fascia itself to make sure there is no tear and check the level of scar tissue and damage. Neurosensory testing, a non-painful nerve test, can be used to make sure there is not a local nerve problem if the pain is thought to be nerve related. It is important to remember that one can have a very large heel spur and no plantar fasciitis issues or pain at all, or one can have a great deal of pain and virtually no spur at all.
Non Surgical Treatment
If pain and other symptoms of inflammation-redness, swelling, heat-persist, you should limit normal daily activities and contact a doctor of podiatric medicine. The podiatric physician will examine the area and may perform diagnostic X-rays to rule out problems of the bone. Early treatment might involve oral or injectable anti-inflammatory medication, exercise and shoe recommendations, taping or strapping, or use of shoe inserts or orthotic devices. Taping or strapping supports the foot, placing stressed muscles and tendons in a physiologically restful state. Physical therapy may be used in conjunction with such treatments. A functional orthotic device may be prescribed for correcting biomechanical imbalance, controlling excessive pronation, and supporting of the ligaments and tendons attaching to the heel bone. It will effectively treat the majority of heel and arch pain without the need for surgery. Only a relatively few cases of heel pain require more advanced treatments or surgery. If surgery is necessary, it may involve the release of the plantar fascia, removal of a spur, removal of a bursa, or removal of a neuroma or other soft-tissue growth.
Surgical Treatment
Surgery, which is a more radical treatment, can be a permanent correction to remove the spur itself. If your doctor believes that surgery is indicated, he will recommend an operation - but only after establishing that less drastic methods of treatment are not successful.