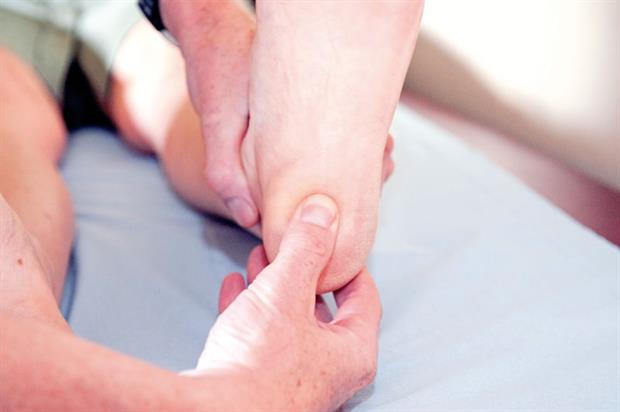 Overview
Plantar fasciitis is a painful inflammatory process of the plantar fascia, a thick fibrous band of connective tissue originating on the bottom surface of the calcaneus (heel bone) and extending along the sole of the foot towards the five toes. Pain in the arch or heel often indicates inflammation of the long band of tissue under the foot (the plantar fascia). It can cause sharp pain and discomfort in either the mid arch region or at the inside heel, and less commonly the outside heel. It frequently causes pain upon rising from rest (especially first thing in the morning) and can progress to agony by the end of the day. Although plantar fasciitis is the most common cause of this pain, it must be skilfully differentially diagnosed from other conditions via a thorough history taking and physical examination.
Causes
Plantar fasciitis is a painful disorder in the lower part of your foot usually around the heel. That pain usually hurts as you get up in the morning when you try to stand on your feet, or after any periods of inactivity. It is a disorder of a tough and strong band that connects the heel bone to the toes. Plantar Fasciitis is caused by injuring that tough band on the bottom of the foot. The following may be the causes of plantar fasciitis. Tight calf muscles or tight Achilles tendon produces repetitive over-stretching of the plantar fascia. Gait and balance Problem may be a dominant cause of this disorder. Many people have a special style of walking, with something unique that causes some kind of imbalance in their body. It might be something like locked knees, feet that turn-out, a weak abdomen etc. This imbalance may place some pressure on the fascia, which eventually causes plantar fasciitis. Weak foot muscles don't give enough support to the plantar fascia. The small muscles in the foot give the foot its shape by keeping the bones in place and by expanding and contracting to make a movement. Weak foot muscles will allow greater stress on the fascia. Foot anatomical problems such as flat feet or high arches can make the fascia ligament work or stretch abnormally. Flattening of the fat pad at the sole of the feet under the heels is a Degeneration process that is caused by poor footwear or by age. Shoes that have no proper heel cup can flatten that fat pad quite quickly and cause this disorder. Walking in shoes which do not have good arch support is considered to be a cause of plantar fasciitis. Wearing inadequate or worn out shoes may place more stress on the fascia ligament. If you wear shoes that don't fit you by size or width, you may put your feet under excessive stress. Overweight Men and women are more vulnerable to developing the condition because of the excess weight on the foot. Pregnant women are at risk due to gaining weight through pregnancy and due to the pregnancy hormones that make ligaments loosen and relax. Sudden increase of activity like starting to run long distance or complete change of daily activity can cause heel pain and this disorder. Practice of repetitive athletic activities, like long distance running, playing a ball game, dancing or jumping, is a common cause for the disorder. Actually it is considered as one of the most common running injuries. Spending long periods of time on your feet everyday can cause plantar fasciitis. Working on your feet a few hours a day evey day may be the reason for your heel pain.
Symptoms
The major complaint of those with plantar fasciitis is pain and stiffness in the bottom of the heel. This develops gradually over time. It usually affects just one foot, but can affect both feet. Some people describe the pain as dull, while others experience a sharp pain, and some feel a burning or ache on the bottom of the foot extending outward from the heel. The pain is usually worse in the morning when you take your first steps out of bed, or if you've been sitting or lying down for a while. Climbing stairs can be very difficult due to the heel stiffness. After prolonged activity, the pain can flare-up due to increased inflammation. Pain is not usually felt during the activity, but rather just after stopping.
Diagnosis
After you describe your symptoms and discuss your concerns, your doctor will examine your foot. Your doctor will look for these signs. A high arch, an area of maximum tenderness on the bottom of your foot, just in front of your heel bone. Pain that gets worse when you flex your foot and the doctor pushes on the plantar fascia. The pain improves when you point your toes down. Limited "up" motion of your ankle. Your doctor may order imaging tests to help make sure your heel pain is caused by plantar fasciitis and not another problem. X-rays provide clear images of bones. They are useful in ruling out other causes of heel pain, such as fractures or arthritis. Heel spurs can be seen on an x-ray. Other imaging tests, such as magnetic resonance imaging (MRI) and ultrasound, are not routinely used to diagnose plantar fasciitis. They are rarely ordered. An MRI scan may be used if the heel pain is not relieved by initial treatment methods.
Non Surgical Treatment
Your GP or podiatrist may advise you to change your footwear. You should avoid wearing flat-soled shoes, because they will not provide your heel with support and could make your heel pain worse. Ideally, you should wear shoes that cushion your heels and provide a good level of support to the arches of your feet. For women wearing high heels, and for men wearing heeled boots or brogues, can provide short- to medium-term pain relief, as they help reduce pressure on the heels. However, these types of shoes may not be suitable in the long term, because they can lead to further episodes of heel pain. Your GP or podiatrist can advise on footwear. Orthoses are insoles that fit inside your shoe to support your foot and help your heel recover. You can buy orthoses off-the-shelf from sports shops and larger pharmacies. Alternatively, your podiatrist should be able to recommend a supplier. If your pain does not respond to treatment and keeps recurring, or if you have an abnormal foot shape or structure, custom-made orthoses are available. These are specifically made to fit the shape of your feet. However, there is currently no evidence to suggest that custom-made orthoses are more effective than those bought off-the-shelf. An alternative to using orthoses is to have your heel strapped with sports strapping (zinc oxide) tape, which helps relieve pressure on your heel. Your GP or podiatrist can teach you how to apply the tape yourself. In some cases, night splints can also be useful. Most people sleep with their toes pointing down, which means tissue inside the heel is squeezed together. Night splints, which look like boots, are designed to keep your toes and feet pointing up while you are asleep. This will stretch both your Achilles tendon and your plantar fascia, which should help speed up your recovery time. Night splints are usually only available from specialist shops and online retailers. Again, your podiatrist should be able to recommend a supplier. If treatment hasn't helped relieve your painful symptoms, your GP may recommend corticosteroid injections. Corticosteroids are a type of medication that have a powerful anti-inflammatory effect. They have to be used sparingly because overuse can cause serious side effects, such as weight gain and high blood pressure (hypertension). As a result, it is usually recommended that no more than three corticosteroid injections are given within a year in any part of the body. Before having a corticosteroid injection, a local anaesthetic may be used to numb your foot so you don't feel any pain.
Surgical Treatment
Surgery may be considered in very difficult cases. Surgery is usually only advised if your pain has not eased after 12 months despite other treatments. The operation involves separating your plantar fascia from where it connects to the bone; this is called a plantar fascia release. It may also involve removal of a spur on the calcaneum if one is present. Surgery is not always successful. It can cause complications in some people so it should be considered as a last resort. Complications may include infection, increased pain, injury to nearby nerves, or rupture of the plantar fascia.
Stretching Exercises
Exercises designed to stretch both your calf muscles and your plantar fascia (the band of tissue that runs under the sole of your foot) should help relieve pain and improve flexibility in the affected foot. A number of stretching exercises are described below. It's usually recommended that you do the exercises on both legs, even if only one of your heels is affected by pain. This will improve your balance and stability, and help relieve heel pain. Towel stretches. Keep a long towel beside your bed. Before you get out of bed in the morning, loop the towel around your foot and use it to pull your toes towards your body, while keeping your knee straight. Repeat three times on each foot. Wall stretches. Place both hands on a wall at shoulder height, with one of your feet in front of the other. The front foot should be about 30cm (12 inches) away from the wall. With your front knee bent and your back leg straight, lean towards the wall until you feel a tightening in the calf muscles of your back leg. Then relax. Repeat this exercise 10 times before switching legs and repeating the cycle. You should practise wall stretches twice a day. Stair stretches. Stand on a step of your stairs facing upstairs, using your banister for support. Your feet should be slightly apart, with your heels hanging off the back of the step. Lower your heels until you feel a tightening in your calves. Hold this position for about 40 seconds, before raising your heels back to the starting position. Repeat this procedure six times, at least twice a day. Chair stretches. Sit on a chair, with your knees bent at right angles. Turn your feet sideways so your heels are touching and your toes are pointing in opposite directions. Lift the toes of the affected foot upwards, while keeping the heel firmly on the floor. You should feel your calf muscles and Achilles tendon (the band of tissue that connects your heel bone to your calf muscle) tighten. Hold this position for several seconds and then relax. Repeat this procedure 10 times, five to six times a day. Dynamic stretches. While seated, roll the arch of your foot (the curved bottom part of the foot between your toes and heel) over a round object, such as a rolling pin, tennis ball or drinks can. Some people find that using a chilled can from their fridge has the added benefit of helping to relieve pain. Move your foot and ankle in all directions over the object for several minutes. Repeat the exercise twice a day.